Thurrock Trailblazers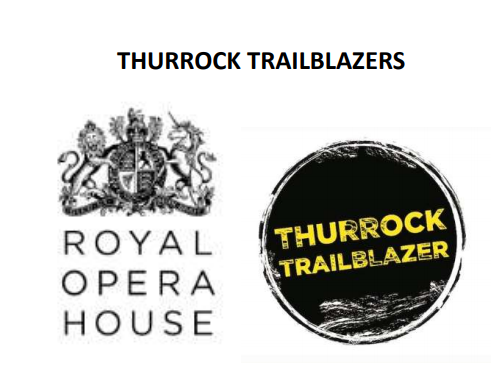 Thurrock Trailblazer is an innovative programme of high quality arts and cultural activities, visits to heritage sites and specialist teacher training, that boosts creative learning in schools and accelerates pupils' development.
During 2019-20 we are engaged in the following projects:
Taking Year 7 to see a ballet at Thameside Theatre in collaboration with the Royal Opera House and New English Ballet Theatre. Students will experience a live dance performance by a professional ballet company and be able to identify the nuances of this specific form of dance. Students will be able to observe the differing ways of approaching choreography and how body language can tell a story.
Taking students in History to Coalhouse Fort in East Tilbury. Students will be able to understand what life was like at the fort in various time periods from the Victorian era to World War 2. They will also know how and why the fort was constructed and discuss 2D and 3D shapes and mathematical language.
Taking students in History to Hampton Court Palace. Students will explore the Tudor palace and investigate various aspects of its history and significance.
Engaging in the V and A Museum Innovate project with a cohort of gifted and talented students.
Entering teams in the "Kids Lit Quiz" at Thurrock library. This activity improves teamwork and strengthens the brain in building connections.
Staff CPD on using film in English and Media Studies. This staff training is delivered by "into Film" and helps teachers develop a wide range of skills that are transferable between film and literary texts. It encourages deep and creative learning opportunities such as critical thinking, analytical skills and contextualisation that are essential across the curriculum.
Song Creation and Production workshops "Bang and Smash". These small group workshops will help students recognise how elements of music are put together and how to arrange and compose music. It also develops team work and resiliance by allowing students to try new things in a safe, supportive environment.
Video games workshops for GCSE computing students. These develop programming techniques such as behaviours, variables, events and actions. They allow students to create and build interactive experiences, custom games levels and how to fix programming bugs.
Visits to the National Theatre for our GCSE Drama students will allow them to develop skills in areas such as performance, puppetry, design or sound and lighting. They will explore a wide range of jobs in professional theatre and visit this major cultural venue.
A day of Chinese Culture for Year 7 where they will gain knowledge and awareness of Chinese Culture and heritage and about Chinese New Year. They will develop listening and co-ordination skills, improve dexterity and fine motor skills plus have the opportunity to develop creative expression.
Visits to Colchester's First Site Gallery. Students will have the opportunity work with an artist, be exposed to a cultural venue and current art exhibitions. They will also explore art terminology and discover new art materials and techniques, as well as exploring art terminology, creative thinking and expression of ideas.
Across the Trust we are collaborating with the primary and secondary schools on a number of projects including:
Taking students to see "Rachel" a play about the Holocaust and participate in workshops surrounding the themes raised.
I-Create workshops where dance performances are created and developed for performance.
"The Flying Dutchman" CPD for music specialists.
"Everybody Sing" which involves students creating a performance together.
The Gamelan focussing on the arts, crafts and music of Indonesia.
Learning to Look which involves working with an artist at First Site Gallery in Colchester and exploring art techniques and contemporary exhibitions.
https://www.roh.org.uk/learning/learning-in-thurrock/thurrock-trailblazer