Mid Year Admissions
Parents of students aged 12 to 16 who would like to transfer to Brentwood County High School are requested to contact the Admissions Officer, Mrs M Bush, to ascertain if there are any places available and to discuss individual circumstances. The email address for Mrs Bush is m.bush.bch@osborne.coop
Please click here to view the Secondary Mid Year Form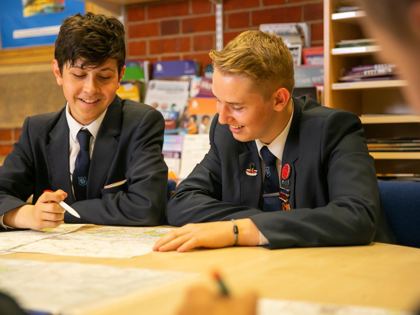 Mid Year Application Process
1) How do I apply for my child to come to Brentwood County High School?
Mid Year Applications
For applications to existing year groups, please download and complete the form below.
Please click here to view the Secondary Mid Year Form
Completed applications should be returned directly to the Admissions Officer, Brentwood County High School, Shenfield Common, Seven Arches Road, Brentwood, CM14 4JF.
2) Who makes the decisions about who to admit to BCHS for Year 7 to 11 students during the school year?
Applications for admissions to BCHS in the course of the normal school year need to be made by contacting the school directly. Where year groups are full we will keep a waiting list for student admissions. Where year groups are not full we will work with parents, carers and students to facilitate admissions to the school.
What Our Parents Say
We regularly survey parents and carers of young people who attend our school to help us to reflect on all that we do and strive for continuous improvement. Here is a selection of some of the things that existing parents and carers have said about BCHS.
"Well done and keep doing what you already do. My children are very happy and doing well at the school so thank you for this."
"There are an amazing amount of extra-curricular activities which include all children if they so wish. Education wise, teachers approach in class is excellent and make the lessons as interesting as possible. Regular updates on the children's progress is also excellent."
"As ever your communication is first class. Your support of the GCSE students is excellent."
"Communication with parents is very good. Enforcement of school uniform standards is good. It is very good to be able to contact staff directly and sort out minor matters quickly."
"Our son has had a fantastic first year at BCHS, his confidence & self-belief has grown incredibly which is a joy to witness. He has spoken with enthusiasm and excitement repeatedly about his experiences and we look forward to a continuation of this. Thank you."
"I'm extremely happy, with the fast response and feedback that I have received over my son's behaviour ... good or bad, you have informed me on all areas. Your approach to dealing with these issues has been amazing, and has made him think about his actions. I'm also pleased that I have not been made to feel like a bad parent when the school has informed me, and the fact that we work together to make sure that his behaviour improves."
"The school is excellently run and there seems to be lots of opportunities for children to take part in extracurricular activities. My child enjoys school and has found the way the year 7 curriculum is organised has really helped the transition from Primary to Secondary."
"Great having curriculum booklets .We use these a lot. Thanks."
"I feel that the general level of communication from the school is excellent. The Friday Focus and newsletters are a great way to keep up with what is going on at the school."
"Any issues with bullying have been dealt with in the best way. Mr Davies is excellent, really approachable and always responds in some way. I feel very reassured that any issues are dealt with in the best way they can be."
"I lke the interactivity with the subject teachers. I often get emails reminding us that my son needs to complete coursework / homework, us parents need reminding sometimes too."
"Personally, my son has made huge, mature steps this year. I believe it's mainly because we have found it easier than before to work with the teachers. This has pushed him in the right direction. His words "I don't love school, but I understand how important it is to my future"! The teaching staff are excellent at tailoring seating / education / relationships which encourage learning."
"Our son in year 12 has really found himself during his time at BCHS. He started out as a very quiet boy who hadn't a lot of confidence in himself. He has matured in a much more confident young man with the help of a school that encouraged and challenged him while at the same time nurturing him and we would like to thank you for that."
"Your communication is excellent. Every member of staff I have spoken to is helpful and informative and your response time is exceptional compared to other senior schools."
"Surprisingly, my son does seem to have bought into the additional GCSE work classes - even on a Saturday. Your teaching staff who have supported these extra sessions should be praised for their effort and hard work. I hope it brings the right outcomes and rewards."
"The communication is very good, and I am well informed on all aspects of school information."
"My son is in year 12. Throughout his time at BCHS he has clearly been well looked after, with the ethos of the school less about optimising their own reputation, and more about doing what is right for the students as individuals (thus enhancing BCHS' reputation anyway). Well done everybody!"
"My children are happy and that is very important and I have always found the teachers and school supportive as I am a parent who will contact the school if I feel there is a need."
"I am thrilled with my daughter's move from a different school in a different country into BCHS. I have never seen her flourish at school as she is at the moment. She has chosen to broaden her horizons more than I ever thought she would. The two week summer introduction was the most fantastic idea, especially for my daughter as she knew nobody at all in the school. BCHS has been a wonderful move for her; we are thrilled with the doors that have been opened to her."
"The transition from primary to senior school has gone very smoothly for our son. I believe that the 'ladder form' system helps tremendously, as it takes away the fear and mystery of the older students. I have emailed various teachers with queries and have always received a prompt and helpful reply, sometimes well beyond the normal working day. As a parent I still feel part of the school community and know from my friends who are parents of year 7s in other local senior schools, this is not the case for them. Friday Focus is an email that both myself and my husband receive and read on Friday evening. I appreciate the open lines of communication and the honest emails from the headteacher. Discipline in the school is a priority, which is good and I believe that as well as educating the students to a high level, BCHS will help them to emerge as confident and polite young people."
"This school is great. All the teachers try really hard to instil discipline, but also have a fair system for encouragement without alienating each individual and there are opportunities to include all students and bring out the best of the individual. As a fairly new parent to the school I am impressed that you have thought of everything - even if the children forget shoes and plus helping all the family with parents' evenings. Thank you."
"The PE department has been great, always encouraging my son to participate in clubs and try new sports. PE teachers respond promptly to emails, which is important when it concerns fixtures and travel to events."
"My son is in year 10 and we are extremely happy with his progress. All of his teachers seem to go above what is expected of them. Our son is being given excellent lessons and he seems to always be given extra challenges in class when he needs them. We hope the school continues the way it is and our son reached all his goals at BCHS in year 11,12 and 13."
"The school has always responded to any queries or concerns i have about my children. I believe that the staff do their upmost to address serious issues for the better of the children and school environment. I especially would like to commend the headteacher on his real hands on approach to the job. He clearly understands the importance of a good relationship with parents / carers."
"I love the progress that my children are making at school, and how much the school has improved with headteacher leading it."
"Both my children are happy at bch and are both making steady progress. I am impressed with the able student programme."
"Our experience as parents is that any query to the school is picked up and 'owned', and if appropriate, responded to quickly. This has been true for both emailed queries, and calls to the school via reception. We feel that we as parents, and by extension our son is important to the school - needless to say, we are very happy with this."
"What the school does well is to stress its value system, schools that simply wash their hands of any duty to help instil or reinforce a moral compass within their students tend to be quite unattractive. The school also enforces its uniform policy well and should continue to be merciless in doing so. So well done with that."
"I am a great supporter of the school and can see that many positive changes have taken place and continue to take place which is brilliant. I think the school does well at communicating on general matters and providing parents with opportunities to feedback their comments."
"Overall we feel that BCHS is a good school, and our children are happy, feel safe there and well looked after."
Home School Agreement
When students join Brentwood County High School it is important that we all set off on the path together. Joining a new school is a big event in any young person's life, and in order to ensure success we all need to commit to do certain things that will help achieve this.
The Home-School Agreement is a document where each of us commit to do certain things and sign to show this.
There is a section for the student, the parents or carers, the chair of governors and the headteacher.
The Home-School Agreement is an important statement about what we believe as a school and how we will ensure that each of our young people are enabled to succeed. We are always happy to discuss any aspect of the document, and work together to ensure that we can use the promises made to support each of our young people.
You can download a copy of the Home-School Agreement from the bottom of this page.