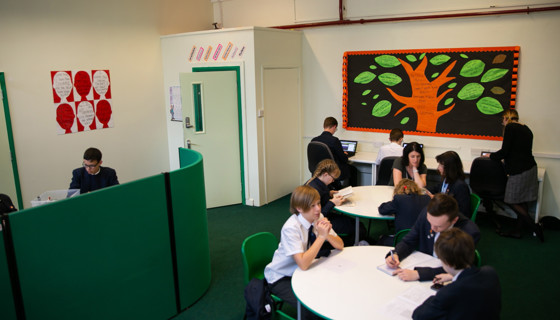 Brentwood County High School is an inclusive community, which offers a range of specialist support for students with a special educational need as a result of a learning difficulty or disability. We regard students' self-esteem to be vitally important to their learning and intend that students should not feel stigmatised by their need. Teachers aim to ensure that all students have the chance to succeed, whatever their individual needs or the potential barriers to their learning may be.
Our SENCO is Mrs McMinn. As part of the Osborne trust the school can access support from a range of other people from St Cleres and Thames Park schools.
Parent Feedback 2021
Year 7 parent..... The support for my child on entry to BCHS has been fantastic. BCHS performs very well pastorally and this is also apparent with the current remote provision.
Year 9 parent..... BCHS has been amazing. My son has been so well looked after and has been able to reach his full potential because of the kindness and dedication of all members of staff. I am so impressed with how he has been treated during his time at the school and I regularly sing your praises. A huge thank you to all members of staff.
Year 8 parent..... I am very impressed with the level of dedication all the teachers are giving on home learning considering this pandemic and am glad he is still learning and is happy.
Year 9 parent.... the SENCO team are fantastic and really nice people.
Year 7 parent ….BCHS do not tolerate any kind of bullying or hurtful behaviour. My son is happy there. I cannot fault them.
Year 9 parent …I could not ask for more. You are doing everything you can and we feel supported.
Year 8 & 9 parent... BCHS has been amazing for both my children, can't fault them. Even the care during these strange times has been faultless.
Year 13 parent …SEND needs are met superbly. The teaching at A level is excellent. The support whilst the kids have not been in school has been amazing too.
Year 8 parent…thank you for all your help and support during this time. We really appreciate it. I don't know how you're managing it all.
Year 9 student…support in my lessons is good. I know who is coming and when. I get on very well with my LSA.
Year 8 Student …I have places I know I can go to and people who listen to me.
Year 7 student …The green room feels really nice. I like going there at break and lunch.
Year 11 parent – I feel you know my son really well and do what is right for him. I feel much happier now.
Year 7 student…The teachers are really nice and having a football space just for Year 7s is really good.
Year 10 student ….I love English, my teacher makes the lessons fun. My Science teacher is really good, he makes sure I understand and the lessons are so interesting.
Student panel…..the teachers really want to help you do well. You have to help yourself too. The LSAs in my lesson are good and help students, even the students who don't have SEN when they need it.
Year 10 student….the LSA in my lesson explains what I need to do and helps me with my work. She doesn't do it for me, just shows me how.
Contact
What are special educational needs?
Many children and young people have a special educational need or disability (SEND) at some time during their education. A child or young person with SEND may find it harder to learn than other children of the same age.
Special educational needs may include:
Behavioural or social needs, e.g. difficulty making friends.
Reading and writing needs, e.g. dyslexia.
Concentration difficulties, e.g. Attention Deficit Hyperactivity Disorder (ADHD).
A medical condition which affects learning.
A sensory or physical need, which affects a child's learning, for example blindness or deafness.
How will a pupil's needs be identified?
We use a range of methods to identify students who may have special educational and other needs. These include:
Information from parents, including during the admissions process.
Information from primary schools.
End of KS2 levels.
Cognitive ability tests (CATs).
Subject teacher feedback.
Tutor and Achievement Team leader feedback.
Other needs testing
Where a pupil is not making expected progress, teachers, the SENDCO and parents should collaborate on problem solving, planning support and teaching strategies. All students with SEND are on the SEND register, which is accessible to all staff. Staff use this information to inform their lesson planning, teaching and students' learning activities. Targeted interventions are planned and delivered where appropriate. This may include small group or individual work across a broad range of activities.
How do we support students with extra needs?
Consistent teaching.
In-class support from a Learning Support Assistant.
Small group in-class learning.
Withdrawal group support including anger management, anxiety management, Handwriting support and literacy support.
Referral to outside agencies.
Special exam arrangements such as extra time.
For longer term medical needs, individual plans are developed in conjunction with the school and parent/carer.
How will pupils' progress be monitored?
The school tracks all students' progress, but additional monitoring is in place to ensure that students with SEND make the appropriate levels of progress. This may include:
In-class observations.
Assessments by specialist SEND staff.
Assessment from outside agencies.
Pupil feedback.
Parent/carer feedback.
What additional curricular activities are available for pupils with SEND?
The SEND department is open before school and during social times. A range of activities are provided or students can use the space for support. Additionally, a range of extra-curricular trips and activities occur throughout the year. The needs of SEND students are assessed when planning these activities.
How will parents/carers be kept informed
BCHS provides parents with regular data to ensure they are informed of their child's progress. Reports are compiled three times a year and sent home to parents. Additionally, there is Parents evening per year scheduled for each year group, at which parents can meet with tutors and subject teachers either online or face-to-face (depending on year gorup) to discuss their child's progress and set targets.
Special Educational Needs and Disability (SEND) Information