School Catering
ParentPay - Did you know?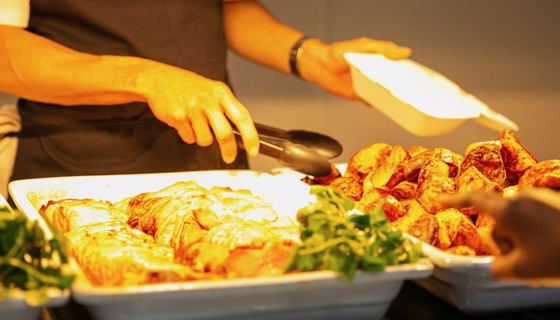 ParentPay is a safe and convenient online payment system. This reduces the time that students and staff spend loading money onto payment cards reducing the time spent queuing at coin loaders.
All parents and carers can set up an account online, view balances and even purchases made for individual accounts. If you are without internet access then you can simply use a PayPoint card to top up in your local shops or highstreet where you see the PayPoint sign.
click here to go to parentpay page
| Service | times | location | who can use this? |
| --- | --- | --- | --- |
| Breakfast Club | 07.55-08.25 | Refectory | Everyone |
| Break time | 11.00-11.20 | All dining rooms | Everyone |
| Early lunch | 12.45-13.20 | Main dining room | Sixth form and staff |
| Lunch time | 13.20-14.00 | All dining rooms | Everyone |
| All day service | 08.15-11.00 | Refectory | Sixth form and staff |
| All day service | 11.20-13.20 | Refectory | Sixth form and staff |
| All day service | 14.30-15.30 | Refectory | Sixth form and staff |
Menus
What goes in...
We use a 3 week menu cycle which is changed seasonally 3 times a year to take into account the fresh produce available, reducing food miles and supporting British farmers. All of our meat and poultry is British along with 75% of our fruit and vegetables sourced from the home counties, we use only Free Range Eggs in all our cooking.
Some students may be entitled to free school meals, please contact the school or more information.
Meal deals
Our menus feature a daily "meal deal" which is themed allowing students to purchase a full main meal and a jelly pot or fruit for £2.40.
Monthly Theme Days
Every month we feature theme days in the restaurant, this year being no exception. So watch out for our featured menus and highlighted seasonal product of the month.
Fill up, get sharp!
Boost is our new seasonal range of products that packs a punch in the health department without compromising the flavour and excitement that your taste buds experience. From winter soups to summer smoothies, be sure to check out this exciting 'wellbeing' range and stimulate your senses all-year-round!
Environment
Driving efficiency
The school is serious in helping to reduce waste and landfill. Our food waste is kept to a minimum and the most effective cooking methods adopted to reduce energy consumption.
Concentrating on reducing food miles means limiting the number of vehicles delivering to site and where possible using re-useable crates for deliveries against cardboard boxes. Over recent years the "takeaway" culture has become part of our everyday life and this raises challenges for us. To assist in maintaining our "green credentials" where possible all our disposable products can be recycled or are fully biodegradable.
Catering Menu Timetable
| | |
| --- | --- |
| W/C Date | Catering Menu |
| 27.01.2020 | Week 1 |
| 03.02.2020 | Week 2 |
| 10.02.2020 | Week 3 |
| 24.02.2020 | Week 1 |
| 02.03.2020 | Week 2 |
| 09.03.2020 | Week 3 |
| 16.03.2020 | Week 1 |
| 23.03.2020 | Week 2 |
| 30.03.2020 | Week 3 |