Primary Liaison
Primary Transition
PRIMARY LIAISON
As we all know, moving up to Secondary school is a daunting process for both students and their families. At BCHS, we pride ourselves in the support and care we give throughout the transition process. Last year we introduced a BCHS Buddy system whereby Year 7 & 8 students volunteered their time throughout the transition process to help prepare and settle the students into school. The buddy system has proven to be a great success and is something we will run every year.
We offer a multitude of exciting opportunities to all our primary schools, which are located over the Essex area (see map).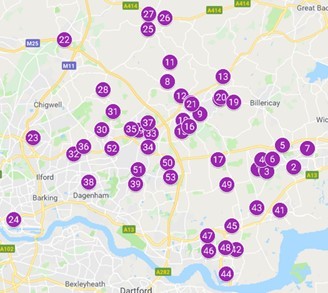 This starts as early as Year 5 with themed Taster days, Author visits, Olympic athlete workshops and Curriculum based workshops varying from Science to Music. We have hosted parent coffee mornings and afternoon teas, school tours, question and answer sessions, primary school visits, an Induction evening for all parents and students and themed Induction days for the children.
The transition programme ends with our extremely popular Summer School which runs for 3 days over the summer holidays. This is the perfect way for all the Year 6 students to meet new friends and accustom themselves with our school before they join us in September.
Positive feedback 2018/19
"Thank you so much to all the staff involved in the Year 5 Taster days. The lengths that the staff went to in order to ensure the children had a great time was amazing. They all went above and beyond. My daughter described the day as magical" - Yr 5 parent
"I cannot thank the Primary Liaison Team enough for all the hard work they have put into the transition process. My daughter was so anxious about starting Secondary School and after the Year 6 induction days you have completely put her at ease. It's like having a different child." - Yr 6 parent
"A huge thank you to everyone involved in the Science workshop. My son had a great time and has not stopped talking about all the wonderful things he did and the new friends he has made." – Yr 6 parent
"Loved the coffee morning. What a great idea! It was very informative and the staff were wonderful." Yr 6 parent
"Thank you for hosting the afternoon tea we were really pleased with the outcome. We feel completely reassured that we have made the right decision and picked the best school for our daughter." - Yr 6 parent
"I've had such a great day, can we do it all again tomorrow?"
"I was really anxious about joining secondary school and I've had such fun I can not wait to start in September" – Yr 6 students
Applications from outside the area
Transition Process
1) How do I apply for my child to come to Brentwood County High School?
Year 6 to Year 7
As part of the Year 6 to Year 7 transfer you need to apply via Essex County Council. Applications will need to be submitted by 31st October, in the first term of Year 6 at primary school. Your borough council will contact you directly with the information and documents relevant to this process.
For further information please contact us
or email admissions@essex.gov.uk
---
2) Who makes the decisions on who to admit to BCHS for September admissions to Year 7?
As an academy school BCHS is legally its own admissions authority. However as with most academies we are part of the Essex Local Authority admissions process. Essex County Council manages our admissions as part of the central Essex system in line with our published admissions criteria for each year.
Important Dates
Essex Key Dates:
| | |
| --- | --- |
| Date | Information |
| 12th September 2019 | Online application facility opens |
| 31st October 2019 | Statutory national closing date for all applications, including online. The online application system will be closed after this date. |
| 1st November 2019 onwards | LA to consider all applications received after the closing date. |
| 2nd March 2020 | National offer date. LA will notify Essex resident parents of the outcome to their application. |
| March-end of August 2020 | LA maintains waiting lists for all schools and fills any places that become available. |
Upcoming Events
Determined Admissions Criteria 2020
Transition Newsletters
BCHS/West Ham Foundation School Football Academy 20/21
What a fantastic turnout for our inaugural BCHS/West Ham Foundation School Football Academy trials for Year 7 (2020-21) with approximately 30 Year 6 boys and girls attending from 8 different primary schools. The standard was very high and showed a promising start to the new journey ahead. Well Done everyone!
All participants will be receiving a letter soon stating if they have been successful in getting a place on the programme.
We have been informed that some students were unable to attend the initial trial session due to prior commitments. Therefore to avoid disappointment we have put on a second trial date for the 20th November for the students affected. Everyone who had already registered an interest should have received an email regarding this and if you would like to take part then please contact us as soon as possible to register your place.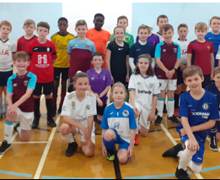 Any Old Irons visit BCHS with Special Guest Carlton Cole
https://www.bchs.essex.sch.uk/1083/primary
Feedback
We have just watched the buddy video. Zac loved it! He actually recognised his buddy from his primary school and feels even more reassured now. The buddy video was a lovely idea. Thank you so much Primary Team. - Year 6 Parent 2020
We loved the buddy video – what a great idea!! My son has watched it twice already! - Year 6 Parent 2020
Loved it!! The BCHS students and teachers have really gone to a lot of effort to help keep the year 6s (and us parents) included in their new school during these difficult times. It is all very much appreciated as it is such a huge step for them at the best of times let alone with lockdown to contend with. We can't thank you enough!! - Year 6 Parent 2020
Thank you to everyone involved in making the buddy video. It was lovely for Thomas to see some of the Year 7 faces! Great idea! Well done to the Primary team. - Year 6 Parent 2020
The buddy video was lovely. Brilliant idea. We loved watching it! Thank you so much for putting it together. - Year 6 Parent 2020
Just wanted to say the buddy video was lovely – I started to cry watching it!! Thank you to all the students that helped with it. Bailey feels so much better to put a face to his buddy!- Year 6 Parent 2020​
Thank you to everyone who took the time to make the buddy video. It was beautiful – pretty sure I had something in my eye whilst watching it. Please can you pass our thanks on to all the buddies too for taking the time to make such attractive colourful posters. - Year 6 Parent 2020
"Thanks to you and the team for the weekly challenges,Babawale is always looking forward to it." - Year 6 parent (2020) - Year 6 Parent 2020
"WOW!!!!! What an amazing effort by all the children.
It was so lovely to see all those happy faces this morning, it was very uplifting and all the children are a real credit to the school. The children are obviously very proud of their school and in their role as buddies to the new Year 6 children and are doing a fantastic job! It was great for Liam to see and very reassuring, he wanted to say a big thank you to them all and in particular Frazer, he is looking forward to meeting him and everybody else.
Thank you again for the contact you have been providing for us and the children, it means a lot to them and for Liam it makes the start of secondary school seem real and exciting. It has been done in such a fun, light-hearted and unpressurised way which I feel has been great for them and us as parents at such a strange time.
Thank you again, I think Liam has definitely chosen the right school." - Year 6 parent (2020)
"A huge thank you to everyone involved in the Science workshop. My son had a great time and has not stopped talking about all the wonderful things he did and the new friends he had made." – Year 6 parent (2019)
"Thank you to everyone involved in the Sports Relief workshop. My son had the best time. He loved competing with the other children in the Swimathon and really enjoyed the water polo afterward. He was thrilled with his certificate and medal at the end too! What a great idea for a great charity. Well done to all involved!!" – Year 6 parent (2019)
"My son attended the STEM workshop. He loved every second and was thrilled to have designed his own computer game at the end of it. Thank you, everyone!" – Year 6 parent (2019)
"Loved the coffee morning. What a great idea!! It was very informative and the staff were wonderful." – Year 6 parent (2019)
"Thank you for hosting the afternoon tea we were really pleased with the outcome. We feel completely reassured that we have made the right decision and picked the best school for our daughter." – Year 6 parent (2019)
"I cannot thank the Primary Liaison Team enough for all the hard work they have put into the transition process. My daughter was so anxious about starting Secondary school and after attending your Year 6 induction days you have completely put her at ease. It's like having a different child." – Year 6 parent (2019)
"The primary liaison team have been great throughout my child's transition. They have gone above and beyond from coffee mornings, personal phone calls and in-depth information packs. They have completely put my mind at ease and have answered all my questions. I am so glad I chose BCHS!" – Year 6 parent (2019)
"I was really anxious about joining secondary school and I've had such fun. I cannot wait to start in September." – Year 6 student (2019)
"I loved the induction days at BCHS. The staff were so welcoming and friendly and I made lots of new friends. I'm looking forward to starting in September now." – Year 6 student (2019)
"Thank you so much to all the staff involved in the Year 5 Taster days. The lengths that the staff went to in order to ensure the children had a great time was amazing. They all went above and beyond. My daughter described the day as magical." – Year 5 parent (2019)
"I've had such a great day, can we do it all again tomorrow?" – Year 5 student (2019)
"A massive thank you to everyone involved the WHU Football Academy programme set up for the Year 6 students. I cannot believe the effort that has been put in to incorporate the students into the school from the beginning from the training sessions to the Christmas party. You have put some much into everything. We cannot thank you enough for all you have done. The Christmas party is one my son will never forget – especially after meeting Carlton Cole." – Year 6 parent (2019)
"Just a quick thank you for helping my son to settle at BCHS. He was so nervous when I dropped him off for his first day at BCHS. I was so worried about him. As soon as he saw all the friendly faces in reception waiting to meet him all his nerves seemed to disappear. Since I picked him up tonight, he hasn't stopped talking about how great it was and how much he's looking forward to going back tomorrow. Its like having a different child. Thank you so much." – Year 7 parent (2019)
"It was so nice to see the primary liaison team meeting and greeting all the students in reception today. It really helped them to feel settled on their first day. You could see the change in them as soon as they walked in and saw you all there. You guys are rock to all the students and are doing an amazing job. Thank you so much!" – Year 7 parent (2019)
"Thanks again to the primary team for being that constant figure to my child throughout the transition and into Year 7. You have all played a massive part in how well my daughter settled and has continued to cope with secondary school life. She's always telling me how she pops into see you and discuss things that are bothering her. It's great to know she can still go to you when she needs that extra support. Thank you for always being there!" – Year 7 parent (2019)
"I'd like to thank your primary team for everything they have done so far during the lockdown. My daughter is in Year 6 but will be starting with you in September and they have been keeping us informed throughout. We have even had weekly challenges set for the children with certificates and chocolates sent as prizes. Even though we haven't officially met any of you, we feel like we know you well. My daughter cannot wait to start with you in September. Thank you for being so supportive and proactive in everything you do." – Year 6 parent (2020)
"Thank you for keeping us so well informed during lockdown. It is lovely to see that you are thinking of our children as part of your school already. You have really helped to alleviate my concerns in this already worrying time. I cannot thank you enough." – Year 6 parent (2020)
"Thank you for the weekly Year 6 challenges. My daughter is so excited to take part each week and is collecting all the certificates now! This has been a great idea and she is now looking forward to meeting you all officially soon." – Year 6 parent (2020)
"I have just had my phone call from the primary team and I would like to thank you for taking the time to call me. It was lovely to be able to talk through all my questions and get to hear all the plans and ideas you have in place. You have been amazing through these uncertain times and I am looking forward to meeting you all soon." – Year 6 parent (2020)
"I am a headteacher at a primary school and have been amazed at the effort and lengths your staff have gone to ensure your upcoming Year 6 students feel like part of your school from the get-go. Everything from the informative welcome pack, primary workshops, the football academy, and the Year 6 Facebook page. You are going above and beyond what is expected and it is really appreciated. Thank you." – Year 6 parent (2020)
"A huge thank you to everyone involved in the Science workshop. My son had a great time and has not stopped talking about all the wonderful things he did and the new friends he had made." – Year 6 parent (2019)
"Thank you to everyone involved in the Sports Relief workshop. My son had the best time. He loved competing with the other children in the Swimathon and really enjoyed the water polo afterward. He was thrilled with his certificate and medal at the end too! What a great idea for a great charity. Well done to all involved!!" – Year 6 parent (2019)
"My son attended the STEM workshop. He loved every second and was thrilled to have designed his own computer game at the end of it. Thank you, everyone!" – Year 6 parent (2019)
"Loved the coffee morning. What a great idea!! It was very informative and the staff were wonderful." – Year 6 parent (2019)
"Thank you for hosting the afternoon tea we were really pleased with the outcome. We feel completely reassured that we have made the right decision and picked the best school for our daughter." – Year 6 parent (2019)
"I cannot thank the Primary Liaison Team enough for all the hard work they have put into the transition process. My daughter was so anxious about starting Secondary school and after attending your Year 6 induction days you have completely put her at ease. It's like having a different child." – Year 6 parent (2019)
"The primary liaison team have been great throughout my child's transition. They have gone above and beyond from coffee mornings, personal phone calls and in-depth information packs. They have completely put my mind at ease and have answered all my questions. I am so glad I chose BCHS!" – Year 6 parent (2019)
"I was really anxious about joining secondary school and I've had such fun. I cannot wait to start in September." – Year 6 student (2019)
"I loved the induction days at BCHS. The staff were so welcoming and friendly and I made lots of new friends. I'm looking forward to starting in September now." – Year 6 student (2019)
"Thank you so much to all the staff involved in the Year 5 Taster days. The lengths that the staff went to in order to ensure the children had a great time was amazing. They all went above and beyond. My daughter described the day as magical." – Year 5 parent (2019)
"I've had such a great day, can we do it all again tomorrow?" – Year 5 student (2019)
"A massive thank you to everyone involved the WHU Football Academy programme set up for the Year 6 students. I cannot believe the effort that has been put in to incorporate the students into the school from the beginning from the training sessions to the Christmas party. You have put some much into everything. We cannot thank you enough for all you have done. The Christmas party is one my son will never forget – especially after meeting Carlton Cole." – Year 6 parent (2019)
"Just a quick thank you for helping my son to settle at BCHS. He was so nervous when I dropped him off for his first day at BCHS. I was so worried about him. As soon as he saw all the friendly faces in reception waiting to meet him all his nerves seemed to disappear. Since I picked him up tonight, he hasn't stopped talking about how great it was and how much he's looking forward to going back tomorrow. Its like having a different child. Thank you so much." – Year 7 parent (2019)
"It was so nice to see the primary liaison team meeting and greeting all the students in reception today. It really helped them to feel settled on their first day. You could see the change in them as soon as they walked in and saw you all there. You guys are rock to all the students and are doing an amazing job. Thank you so much!" – Year 7 parent (2019)
"Thanks again to the primary team for being that constant figure to my child throughout the transition and into Year 7. You have all played a massive part in how well my daughter settled and has continued to cope with secondary school life. She's always telling me how she pops into see you and discuss things that are bothering her. It's great to know she can still go to you when she needs that extra support. Thank you for always being there!" – Year 7 parent (2019)
"I'd like to thank your primary team for everything they have done so far during the lockdown. My daughter is in Year 6 but will be starting with you in September and they have been keeping us informed throughout. We have even had weekly challenges set for the children with certificates and chocolates sent as prizes. Even though we haven't officially met any of you, we feel like we know you well. My daughter cannot wait to start with you in September. Thank you for being so supportive and proactive in everything you do." – Year 6 parent (2020)
"Thank you for keeping us so well informed during lockdown. It is lovely to see that you are thinking of our children as part of your school already. You have really helped to alleviate my concerns in this already worrying time. I cannot thank you enough." – Year 6 parent (2020)
"Thank you for the weekly Year 6 challenges. My daughter is so excited to take part each week and is collecting all the certificates now! This has been a great idea and she is now looking forward to meeting you all officially soon." – Year 6 parent (2020)
"I have just had my phone call from the primary team and I would like to thank you for taking the time to call me. It was lovely to be able to talk through all my questions and get to hear all the plans and ideas you have in place. You have been amazing through these uncertain times and I am looking forward to meeting you all soon." – Year 6 parent (2020)
"I am a headteacher at a primary school and have been amazed at the effort and lengths your staff have gone to ensure your upcoming Year 6 students feel like part of your school from the get-go. Everything from the informative welcome pack, primary workshops, the football academy, and the Year 6 Facebook page. You are going above and beyond what is expected and it is really appreciated. Thank you." – Year 6 parent (2020)